Marawa
- The Fantastic Hula Hoop girl
David O'Mer
- the sexiest gymnast in a bath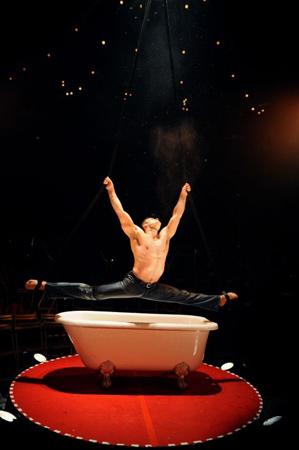 Captain Frodo
- The extremely funny contorsionist
Le Gateau chocolat - the great Diva
The skating Willers
- the impressive rollin' couple
The English Gents
- the most charrrming and strong men
Tuesday night, my boyfriend took me out to LA CLIQUE for the 2nd time and again, I fell completely in love with the whole show. Amazing vaudeville, circus and burlesque cabaret, I had so much fun, I laughed and shouted so much that I didn't have any voice left the morning after!
I DO recommend this show to everyone, you must go and experience this incredible night of glitter and magic!
LA CLIQUE will be in London from Nov, 20th till Jan, 17th, but also in Paris at the Bobino and in Nantes! Check out their
website
for more infos!
Mardi soir, mon irlandais m'a emmené voir LA CLIQUE pour la deuxième fois et une fois de plus, je suis complètement tombée amoureuse du spectacle. Du vaudeville de qualité, l'ambiance cirque, burlesque et cabaret réunis, je me suis tellement amusée, j'ai tellement ri et crié que je n'avais plus de voix le lendemain matin! Je recommande ce show sans aucune retenue, il vous faut découvrir cette nuit magique faite de pailletes!
LA CLIQUE sera à Londres du 20 novembre au 17 janvier, mais aussi à Paris (Bobino) et à Nantes!! Faites un tour sur le site pour plus d'infos!