Je sais, ça fait encore loin, mais j'en peux plus d'attendre! du coup, je prépare déjà le voyage, doucement mais sûrement... je regarde des photos, je corne mon routard, je mets des $$$ de côté, je bloggue chez les ricaines....bref je suis déjà partie!
5 ans que je n'y suis pas allée, aux Etats-Unis, et 5 ans que ça me manque viscéralement. Avec l'Irlandais, nous partons non pas sur les traces de certains de ses ancêtres, mais parcourir certains états du Sud-Ouest des US, les grands parcs nationaux principalement, en voiture OF COURSE, et en musique s'il vous plaît!

Paris-Vegas. De là, soit on y reste pour quelques jours (enfin, nuits!) soit on part directement en Californie, voir la Death Valley et peut-être Yosemite, puis re Nevada, puis Utah, puis Arizona, back to LV!!

1) Le mariage le plus Kitshissime du monde est prévu et surtout très attendu!!! Il me tarde, et c'est loin d'être une blague, de me faire passer la bague au doigt devant un Elvis bedonnant.

La "Graceland Wedding Chapel" offre des packages romantiques all inclusive avec Elvis qui accompagne la future mariée devant l'autel, 3 chansons dont "Love me Tender" et "Viva Las Vegas", 2 photos moisies, une photocopie du certificat de mariage d'Elvis et Priscilla à encadrer et à mettre dans l'entrée, un mini bouquet de fleurs, un témoin etc...
2) Le "Burlesque Hall of Fame Festival" , durant lequel le sacre suprême de "meilleure Performeuse Burlesque" est attribué, se tient à Las Vegas, du 2 au 5 juin 2011.... donc, plein les mirettes pendant 4 jours.... plein d'artistes partout, et plein de shoppiiiiiiiiiing à faire!!!!

(sans oublier la boutique "Bettie Page Clothing" située dans le Fashion Show Mall de Las Vegas)
3) J'ai l'intention de passer 3h dans chaque rayon d'un énooooooorme Méga-super-intermarché, à choisir mes céréales. Quoique toutes trouvées, finalement puique j'aime les trucs chimiques (et irlandais ♥)



4) J'ai aussi fermement l'intention de prendre autant de kilos que nécessaire. Je me goinfrerai de EXTRA EXTRA crunchy Peanut Butter.

et de Reeses's Pieces...........................MIAAAAAAAAAAAAAAAAAAM


5) J'irai chez Hooters, on matera les serveuses comme 2 beaufs, et je m'achèterai le même débardeur (mais pas le sourire débile qui accompagne les chicken wings)!



6) On roulera chacun notre tour en tentant de ne pas se bouffer le nez (la faiblesse de notre couple se trouve quelquepart coincée entre le rétro et le volant de n'importe quelle caisse).

7) On alternera Motel avec Piscine façon Thelma et Louis(e), et camping dans les parcs nationaux.


8) Chez "Jack in The Box", on mangera des gros burgers bien gras, des cheese fries et on boiera des sodas de 1,5l impossibles à finir....


et surtout on s'en cognera de rentrer dans les Clichés!

10) Je trainerai l'Irlandais dans les Thrift shops, en éspérant faire des affaires, et j'essaierai de trouver une Estate Sale, au moins une, pour découvrir ce dont les américaines parlent tout le temps!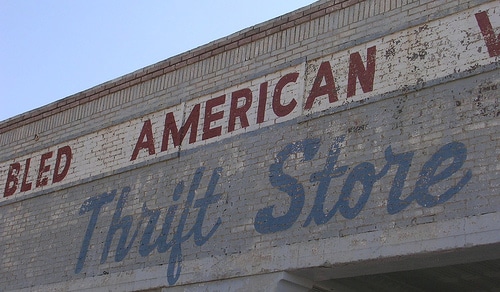 11) Evidemment j'écumerai les Vintage Shops, à la recherche de Cupcake dresses, de paires de chaussures des années 1940 (j'adore!!), et d'autres petites merveilles...
12) et on ira au Rodéo!!! et il n'y coupera pas, NON!!
...plus que... 9 mois!
Preparing my road trip to Southwest America! A lot of clichés need to be experienced and fulfilled, even though I've already been there. I love the US more than any other country I've visited, so far, and just CANNOT wait till I'm there again!
How I'd love a green Card.... *sigh*